Club Days
Mike Hatcher's Junior Motorcycle Club has a range of dirt track racing. Our Gold Coast raceway is open for club members on Saturdays, as per the calendar.
All club day entries are done via Ridernet
Date: Saturdays (as per the calendar)
Schedule
6:45 am – gates open
7:00 am – 8:15 am – scrutineering
7:30 am – 8:15 am – sign on
8:45 am – riders' briefing   
9:00 am – practice and racing
What to bring to scrutineering:
Helmet
Back protector
All other body armour 
What to bring to sign on:
Bike licence
Log book
Transponder number
(Please ensure endorsements are up to date as per licence and coaching changes from 2013)
Practice Days
Date: Saturdays (as per the calendar)
Schedule
9:00am – 3:00pm – dirt track racing 
MX Stadium Cross – to be confirmed (currently not available)
Bike requirements are the same as club days (GCR's)
Pricing
Dirt Track Practice :
Members $35
Non members $45
Other possible costs
Day licence $35
Competition Classes
50cc Div 2 (7-U9)
65cc
85cc 2/ to 150cc 4/ SW
85cc 2/ to 150cc 4/ BW
85cc 4/ Modified
85cc 4/ Standard
100cc 2/ to 150cc 2/ (13-U16)
200cc 4/ to 250cc 4/ (13-U16)
Girls 65cc, 85cc  2/ SW & Up to110cc 4/ (Combined)
Pro Open (age restrictions  apply)
Pro All Powers (age restrictions apply)
Track Measurements
First straight and back straight = 485m
First straight and back dog leg = 487m
First dog leg and back straight = 502.6m
First dog leg and back dog leg = 506.5m
Rider Safety
All dirt bike and motocross riders are to ensure the following safety requirements are met:
Boots
Gloves
Helmet (Aust. standards approval sticker)
Knee guards
Elbow guards
Body armour (as pictured below)
Goggles
Neck brace (optional)
Bikes must have bar ends and levers with ball type ends
Quads must have lanyards fitted, Nerf bars and bar ends.

Rider & Bike Identification
All competing riders should have the correct rider and bike identification as per the 2017 MOMs.
No senior or junior may compete in any competition unless wearing the machine identification number on their back
with a minimum size of 125mm height and 20mm width of stroke.
Figures must be black on a white background.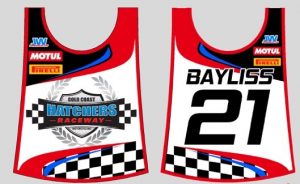 BIKE NUMBERS (as per the 2020 MOMS)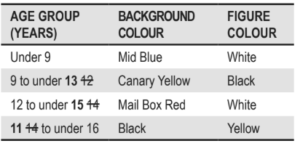 Advertising is permitted on all machines, but must be at least 25mm clear of the number plate background and the rider's name by either a gap or a contrasting colour strip.
Please read the MOMs for dimensions and measurements.
2020 MOMS